This picture is from a contest
that Christy won
in her home town of Mystic, CT
back in 1971.


She won 1st place
for a ballet performance
in a competition
for the Groton CT school district.
Mama Christy's 2001 Album
Recorded in the mountains of Virginia
by Smiggy Smith

CLICK ON CD TO LISTEN
Christy was born and raised in southeastern CT. Her mother is a retired math teacher and visual artist and her father is an electrical engineer and a musician who plays upright bass & bass guitar. Recognizing Christy's interest in music, as a young child they signed her up for piano lessons.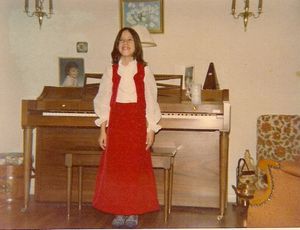 In high school, at age 16 she began singing, writing songs, and playing guitar. During that year she auditioned without success in the chorus for "Godspell" at the Catholic High School she attended. Her dream of singing lived on.

She continued playing music while in college, playing open mikes and jamming with various local musicians and bands; in 1997 Christy moved to San Diego, where she discovered more special gifts. In addition to music and art, Christy is a gifted intuitive counselor -- see "
Clearings
."
In 1999, Christy and baby Noe "Noah" moved in with Doug and Dave in the famous Jam community headquarters; Friday night jams lead to the spontaneous creation of The Mama Christy Band (MCB). Christy's folks came from CT to visit & jam.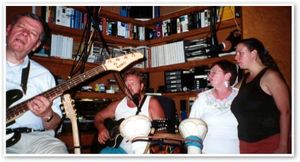 Christy's dream of a studio recording came true in October of 2000 when she and Kristin Wilhite traveled to Virginia to record her first album "BELIEVE" in a secluded mountain studio. This CD is an uplifting and inspiring collection of "feel good" tunes, recorded on Friday the 13th under a full moon.