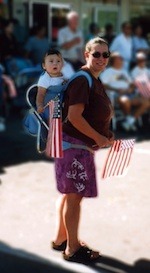 In 1999, Mama Christy and baby Noe ("Noah") moved into the home of Doug McClure, who has hosted a jam session every Friday night for about 30 years (and still does).

Christy lived there for over a year, enjoying the tremendous benefits of having a music studio and performance space in the garage. Christy and a small group of friends went regularly to jam sessions on Friday nights and in the process, they became "family." Christy's music has been deeply enhanced by the love and energy of this group of people.

The band that evolved from the musical friday night "jam" gatherings was a 9 person team of diverse individuals representing the rainbow of all peoples. The beautiful harmonies and rockin' beats of this band are woven with the power of the authentic love of all of these folks for each other, who became close, became family.

In December 2001, Anilh Rameshwar asked the group to do an opening gig at Blind Melon in Pacific Beach for the Greg Vaughn Band, with only about a week's notice. The Mama Christy Band, then a 7-piece ensemble, surprised the crowd with their passion and energy.




Friday Night Jam at Doug's, 2000's
Butch Glenn
Always With Us